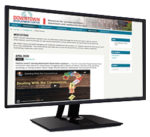 Grants, loans to Black entrepreneurs boost downtown
— Memphis, TN, is a majority Black city whose developers are mostly white. The Downtown Memphis Commission has been taking strides to change that picture by making the ranks of property investors and merchants more diverse. Watch a video overview of the Downtown Memphis Commission's award-winning program below. https://www.youtube.com/watch?v=O3zOowHCutU ...
Imagining the future of downtown with community visioning — The community visioning session is a basic building block of community planning and downtown leadership. Read the full Community Visioning Handbook. ...