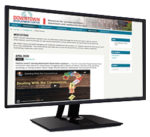 Push for 15 mph speed limits gains momentum
— In an effort to reduce pedestrian fatalities, Virginia lawmakers passed a bill that would allow municipalities to drop speed limits in business districts as low as 15 mph. Read the Governors Highway Safety Association report. ...
Most mayors expect pedestrian-friendly changes to prove temporary — The COVID-19 pandemic led cities to reshape their urban landscapes. According to research by Boston University's Initiative on Cities, the transformation of city streets appears unlikely to last. See Boston University's report here. ...
Retail village boosts local economy — Kuna, ID, will launch a retail market village in June. The village will consist of 12 small shops in re-purposed garden sheds. Read the archive article, "Outdoor kiosks breathe new life into long-dormant space."  ...