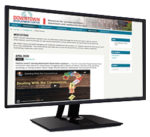 Pilot project transforms medians into programmed green space
— One goal of the 2025 Downtown Miami Master Plan is to transform the downtown stretch of Biscayne Boulevard into an urban thoroughfare featuring a pedestrian promenade, an emphasis on public transit, and bicycle-friendly infrastructure. View the Biscayne Green Full Project presentation. ...
Ambitious retail recruitment program includes many facets — In 2015, the Downtown Windsor Business Improvement Association (ON, Canada), realized that its "very lively and thriving hospitality district" was lacking in retail options. See their retail recruitment presentation and prospectus. ...
Study reveals motivations and barriers to downtown visits — The city of Scottsdale, AZ, is exploring ways to grow specific areas of the downtown. Marketing firm HAPI is creating a new campaign for the downtown that will include a new logo, website, color palette, ads, posters, and more. Read the Downtown Scottsdale Brand Perceptions Presentation. ...
Video series to promote downtown's small businesses — The Scottsdale Area Chamber of Commerce will feature unique small businesses in brief 90-second videos which will be part of the Downtown Spotlight Video Series. See the proposed format for the video below. https://youtu.be/BxQ9_mKZHUY ...