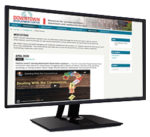 To remain competitive, communities build their own Internet networks —
According to the Institute for Local Self-Reliance, there are now at least 750 community-owned Internet systems in the United States. Chattanooga, TN, was the first in North America to build its own citywide gigabit-per-second fiber Internet network. Read the report, The realized value of fiber infrastructure in Hamilton County Tennessee. ...
Housing program draws and retains employees — The Live it Up Wausau program in Wausau, WI, seeks to attract employees to the area and give them reasons to stay. View the program guidelines here. ...
Retail and restaurant survey provides data for targeted business attraction — Since 2011, the town of Flower Mound, TX, has conducted a Retail & Restaurant Survey every other year. The results are used to ensure that residents have input into the type of downtown they want, recruit new businesses, explore consumer leakage, and educate the public about why certain retail and restaurant desires are not realistic. ...
Minimizing delivery congestion — A report, The Final 50 Feet Urban Goods Delivery System, from the University of Washington's Urban Freight Lab looks at reducing city center congestion. ...
Planners ponder underground space — Read the World Urban Forum's report, Think Deep: Planning, development and use of underground space in cities. ...