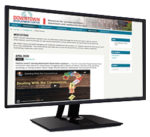 Grant funding and event planning guide foster inaugural events —
The Rochester Downtown Alliance (RDA) has offered its Start-Up Grant program since 2013 to encourage first-time events in Rochester, MN. Read the complete First Time Event Planning Guide and the Grant Guidelines document. ...
Listening, encouraging, and creating connections helps launch more entrepreneurial projects — Uptown Works, a cowork space, will be located in the historic World's Attic building in the heart of downtown Somerset, PA. Watch the Uptown Works Introduction video below. https://youtu.be/o_bMAmrtfwM ...
Repurposed shipping containers offer flexible, affordable space downtown — Shipping containers are providing retail and residential space downtown and creating an attention-grabbing alternative to more traditional development. Container Park, in Las Vegas, NV, is perhaps one of the most ambitious of these projects. Read an archive article about Container Park. ...
Active Frontages encourage lively streets — The Town of Milton, ON, Canada, is taking steps to create a more bustling, pedestrian-oriented experience downtown. See recent amendments to the town's strategic plan. ...
Gee wiz parking technology — Read a Parking Today article about the Westfield Century City parking system in Los Angeles. ...