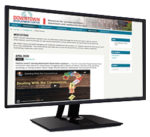 For one city, keeping employers happy means hundreds of meetings a year —
It also means retaining local college students. Economic developers in Dubuque, IA, surveyed regional college students about their aspirations after graduation and found 55 percent of those surveyed were unsure if they would remain in the area. Those findings spurred the Greater Dubuque Development Corp. to market the region to young workers. See the "You Can Make It In Dubuque" brochure. ...
Pricey but effective, wayfinding signs are "voice of the city" — Springfield, MA, has seen major new developments in recent months, including the opening of a casino and the rehab of the city's Union Station. To help guide visitors to the city center, Springfield invested $400,000 in a series of wayfinding signs installed in late 2018. Read the Sign Research Foundation's guide to urban wayfinding. ...
By focusing on five key themes, downtowns attract millennials — New research from Arizona State University is providing insights into the type of downtown housing that millennials value. ...
Encouraging upper level residential — To spur residential development in downtown Bradenton, FL, the city recently approved two new programs. Click the links below to learn more. • Upstairs Residential Conversion Grant Program & Application • Restaurant and Food Services Incentive Program & Application ...