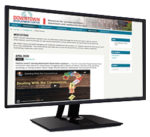 Public libraries act as partners in downtown development —
A study by the Urban Institute and the Urban Libraries Council argues that libraries bring overlooked benefits to downtowns. ...
Food truck festival draws crowds, supports local restaurants — Little Rock, Arkansas' Food Truck Festival is a signature event for downtown, drawing 40,000 people to visit 60 food trucks. See an overview of the growth of the festival. ...
"Grow your own" approach to jobs offers alternative to bidding wars — The "grow your own" model of business development focuses on nurturing entrepreneurs and small businesses. Read the Kansas City Fed's Grow-Your-Own Guide. ...
City illuminates downtown gateways and gathering spaces — When completed in 2022-23, Rosslyn, VA's downtown corridor and gateways will be connected through illuminated art including 21-foot tall towers of light. Here is a PowerPoint presentation on the current proposal. Watch an artist's talk about the design process below. https://youtu.be/vipYjp_t9TA ...