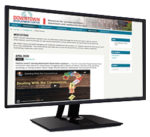 Ice bars provide frosty entertainment
— Hospitality venues in Lake George, NY, know a lot about how to entertain outdoors in frosty winter weather. When the temperatures dip, they open their ice bars. See a video produced by the county tourism department below. https://www.youtube.com/watch?v=R9921lPCbrE ...
City uses consumer marketing, business grants to keep downtown active — In Chandler, AZ, city officials are combatting the coronavirus downturn by marketing local businesses to consumers. The "I Choose Chandler" ad below reminds viewers that the city's restaurants, gyms, clothing boutiques, and barbershops are open for business. https://www.youtube.com/watch?v=SinS9wZckng&feature=youtu.be ...