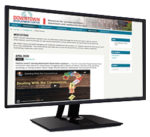 Asphalt art projects combine pedestrian safety, urban beautification
— The Bloomberg Philanthropies Asphalt Art Initiative gives up to $25,000 per locale for visual art interventions on roadways, pedestrian spaces, and public infrastructure. See the City of Monticello Business District Building Improvement Grant Program application and guidelines. Watch videos about public art in Kansas City, MO, and Saginaw, MI, below. https://www.youtube.com/watch?v=pa8xNx7Cjwk https://www.youtube.com/watch?v=JBdRy0x7Gqg ...
System of sensors and signs helps improve parking — When workers return downtown in a number of cities, they will be greeted by a range of new parking technologies. Watch a video about the parking garage management system below. https://www.youtube.com/watch?v=nfXlVldgjaU ...
Old style mall becomes modern food hall — The newest addition to downtown Milwaukee's vibrant restaurant scene is the 3rd Street Market Hall, with a dozen restaurants and food businesses. Read the report, "Food Halls 3.0." ...