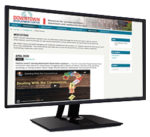 Electric cabs, other ride sharing, part of new "microtransit" trends —
Microtransit initiatives aim to ease traffic congestion, as well as reducing the need for public investment in parking garages and lots, not to mention bus service. See a report about cities partnering with Lyft and Uber prepared by the Chadwick Institute for Metropolitan Development at DePaul University. ...
Downtown uses temporary dog parks to satisfy demand, test sites — Raleigh, NC, operates pop-up dog parks downtown that give dogs a place to play for a day or two. The city ultimately hopes to build a permanent dog park downtown, and the pop-up events let parks officials gauge the pros and cons of various locations. Read Raleigh's report on dog parks. ...
Change to Make a Change program launches — Donations to the Change to Make a Change program in Bloomington, IN, will be distributed among local service providers such as emergency shelters, free meal sites, and other resources. View the Change to Make a Change brochure and map. ...
Wayfinding encourages multi-destination trips — A recently approved wayfinding signage plan in Burien, WA, encourages residents and visitors to "park once — shop twice." ...