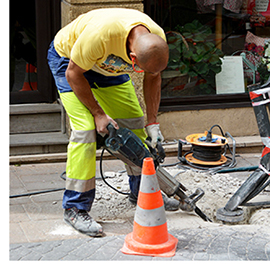 With their disruptions to traffic flow and parking, construction projects are the bane of downtown leaders.
In a rare bright side to the coronavirus pandemic, some downtowns are using the economic pause to accelerate infrastructure improvements.
In Pensacola, FL, Gulf Power has accelerated work on an $83 million project to improve the downtown power grid. In a bid to ease disruptions to downtown businesses, the utility had been working at night.
However, with the pandemic clearing traffic from downtown streets, Gulf Power switched back to daytime construction. With better visibility and no need to set up lights, workers are making faster progress during the day than they could at night, a Gulf Power spokesman told the Pensacola News Journal.
The long-term project aims to modernize downtown's decades-old electrical grid.
The story is similar in Waco, TX, where the city took advantage of sparse traffic to revamp roads that would normally be too busy to repair during the day.
Crews worked on drainage, striped downtown bike lanes, and prepared for the conversion of Washington Avenue to a two-way street.
A city official told the Tribune-Herald that with downtown deserted, the work can proceed more quickly and safely.
More on the impacts of the coronavirus and how downtown leaders are coping, appears in the April issue of Downtown Idea Exchange. Click to learn more about Downtown Idea Exchange and other resources for revitalizing downtowns and commercial corridors.