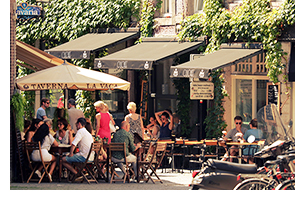 As the coronavirus pandemic closed downtowns across North America, downtown Detroit's biggest landlord tried something different.
Bedrock, a major property owner in the struggling city's commercial core, told tenants it wouldn't collect their rent. The most generous rent forgiveness terms go to small businesses, while bigger companies can get smaller breaks.
"It is going to take the entire community to mitigate the effects of this pandemic on the region, and we are happy to do our part to help our portfolio's most vulnerable businesses weather the storm," Bedrock Chief Executive Officer Matt Cullen said in a statement. "We are staying in close contact with each of our tenants and stakeholders everyday to understand their needs and concerns, and how we can help."
Under the coronavirus plan, Bedrock won't collect rent and fees totaling millions of dollars from dozens of small businesses for three months.
The decision was a no-brainer, Cullen said. After all, it was free rent or push many small tenants out of business.
More on the impacts of the coronavirus and how downtown leaders are coping, appears in the April issue of Downtown Idea Exchange. Click to learn more about Downtown Idea Exchange and other resources for revitalizing downtowns and commercial corridors.