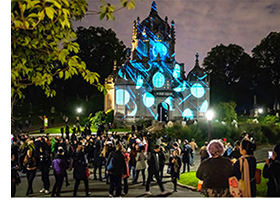 May 14, 2020 —
In Kennesaw, GA, a downtown cemetery is no longer just a final resting place.
The Kennesaw City Cemetery, an eight-acre space that opened in 1863, is being transformed into a greenspace and recreation area. Under a plan approved unanimously by the city council in 2019, the graveyard will host fun runs, yoga classes, stargazing, movies, and concerts.
The plan turns a largely unused space in the middle of downtown into a lively greenspace that finds new ways to connect residents while also honoring Kennesaw's history.
Kennesaw was inspired in part by Oakland Cemetery in Atlanta and Decatur Cemetery. Both illustrate cemeteries' increasing role as parks and places of civic connection — just as they were in the 1800s when they were first built.
The cemetery's eight acres are located on a portion of former Civil War training site Camp McDonald — and just a few miles away from Kennesaw Mountain National Battlefield Park. It's an active cemetery today, but it's also home to many of the city's late notable residents.
Darryl Simmons, the city's planning and zoning administrator, says the downtown population is changing.
"We want to embrace all the new activity, but at the same time," says Simmons, "part of the cultural heritage of any town can be told by the cemetery."
More on utilizing hidden green space and strategies to ease a parking squeeze appear in the May issue of Downtown Idea Exchange. Click to learn more about Downtown Idea Exchange and other resources for revitalizing downtowns and commercial corridors.