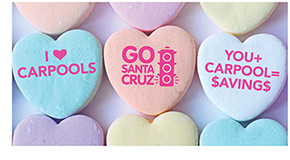 May 28, 2020 —
Before the coronavirus shutdowns, Santa Cruz, CA, was home to a bustling downtown. Some 4,000 workers had jobs in the district, and downtown's mix of early-morning cafés and late-night bars created what Claire Gollogly, the city's transportation planner, calls a "23-hour" city.
There is a catch, though. Downtown Santa Cruz is home to just 2,000 parking spaces.
"We have a perfect storm of a lot of people downtown, and not a lot of parking opportunities," Gollogly says.
The city has considered one remedy to that problem, but the estimated cost of building a new parking garage is $37 million. In hopes of putting off that substantial investment, city officials have been looking for a more cost-effective way to address the city's parking crunch.
The low-cost strategy led the city to launch GO Santa Cruz in October 2019. It's a program that encourages commuters to drive less through a combination of free bus passes, discounted bike sharing, and prizes for those who ditch their cars.
The range of options encouraged nearly 1,000 workers — almost a quarter of the downtown work force — to use GO Santa Cruz in its early months.
"We've surpassed what we thought we were going to see," Gollogly says. She credits the program's flexibility and menu of options.
"Our approach is not a one-size-fits-all approach," Gollogly says. "Our tagline is 'Meeting people where they are.'"
More on the GO Santa Cruz program and strategies for surviving a downtown construction project appear in the May issue of Downtown Idea Exchange. Click to learn more about Downtown Idea Exchange and other resources for revitalizing downtowns and commercial corridors.