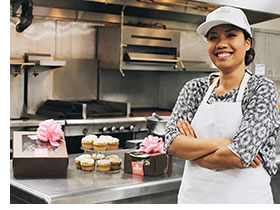 Shared kitchens are gaining popularity in big cities and small towns. They often fill long-vacant space, act as specialized business incubators, and draw visitors. "Think of it like co-working space for small food businesses," says Corinne Tso, head of Cook Tucson.
Food-prep rules in most places require food products for sale to be prepared in commercial kitchens. That's an insurmountable hurdle for many bootstrap business owners who simply lack the cash to buy or rent convection ovens and other commercial cooking equipment.
When Cook Tucson opened three years ago, it opened new opportunities for entrepreneurs. "These small food businesses had to beg, borrow, and steal space," Tso says.
Shared kitchens have been organized through a variety of structures, including non-profit models, and Tucson's for-profit passion project.
Other models involve government funding and sponsorship by an educational institution. Shreveport's Milam Street Kitchen Incubator and Community Kitchen launched in August, with a goal of revitalizing two neighborhoods and training culinary entrepreneurs. The project landed a $1 million Housing and Urban Development Choice Neighborhoods grant. It also received part of a $24 million HUD grant directed to the city.
In Harrison, MI, the Harrison City Market was funded by a $250,000 Rural Business Development Grant from the U.S. Department of Agriculture and a $247,809 contribution from the city of Harrison.
More on shared kitchens, plus parking management, holiday promotions, and downtown restrooms appears in the December issue of Downtown Idea Exchange. Click below to learn more about Downtown Idea Exchange and other resources for revitalizing downtowns and commercial corridors.