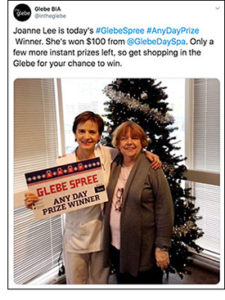 In an effort to bring shoppers downtown and compete with nearby areas, a Canadian improvement district dusted off a classic downtown retail promotion and added some aggressive marketing techniques.
The Glebe Spree, hosted by the Glebe Business Improvement Area in Ottawa, ON, Canada, runs from November 15 through December 31. Shoppers receive blank passports, and participating merchants stamp the passports each time a shopper makes a $15 purchase.
After reaching $150 in spending, customers are eligible to enter a drawing for a $10,000 grand prize. The windfall can be spent only at merchants in the Glebe Business Improvement Area.
"It's really become an annual tradition," says Dana Thibeault, programming and events manager for the Glebe BIA.
In addition to the $10,000 grand prize, there are weekly prizes of $1,000 and daily giveaways of $100 gift certificates.
The large and frequent prize awards keep the promotion highly visible for it's entire month and a half span.
Each year, the Glebe BIA provides strong marketing support including print ads, posters, web display ads, and organic and paid ads on Facebook, Instagram, YouTube, and Twitter.
In addition, the BIA makes a concerted effort to introduce the district and the Glebe Spree to visitors from outside of the area using a geo-fencing strategy. When fans are attending games at nearby TD Place Stadium or the annual Santa Claus parade, their mobile devices are hit with ads about the Glebe Spree.
More on holiday promotions, plus shared kitchens, parking management, holiday promotions, and downtown restrooms appears in the December issue of Downtown Idea Exchange. Click below to learn more about Downtown Idea Exchange and other resources for revitalizing downtowns and commercial corridors.