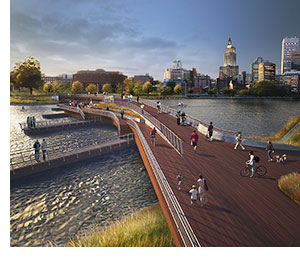 Frank LaTorre remembers when the price tag for the Providence River Pedestrian Bridge was just $3 million. It was back in the 1990s, and the idea was to turn the Route 195 span over the Providence River into a walkway connecting the urban core.
By the time the project was finally completed this summer, the full price was $21.9 million. Considering the project's transformative effect on Providence, RI, the hefty cost was worth it, says LaTorre, executive director of the Providence Downtown Improvement District.
"It took a long time and it cost money," says LaTorre. "However, it is now a real thing of pride for the City of Providence."
With downtown leaders nationally seeking to activate waterfronts, LaTorre says the lesson from Providence is that going over budget can be worth it.
The bridge connects waterfront parks on each side of the river, and it connects the historic east side with the Wexford Innovation Center, a development seen as an employment hub. The bridge has also spurred new activity on the water, including kayak rentals and boat tours, LaTorre says.
The bridge itself is a destination with small seating areas and tiered seating, high-end lighting, built-in chess boards, and decorative planters.
More on encouraging sidewalk dining, public art, and helping businesses survive road work appears in the November issue of Downtown Idea Exchange. Click below to learn more about Downtown Idea Exchange and other resources for revitalizing downtowns and commercial corridors.