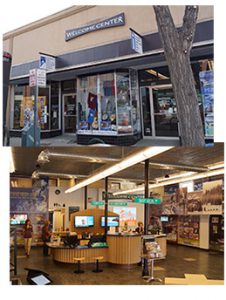 In Durango, CO, the city, the business improvement district, a local college, and the tourism office have created a new welcome center that addresses each of their marketing needs, and more importantly, the needs of visitors to the downtown.
"In the first year of operation, we are going to be well over 100,000 visitors, so we're amazed," says Bob Kunkel, the city's business development manager. "Many people come in to use the restroom or ATM, or to use the water fountain, but end up getting maps, information on the national park and mountain bike trails, or suggestions for restaurants and shopping. It becomes one-stop shopping for everything."
By working together, the group was able to create a custom space to better meet each partners needs without increasing any one group's costs.
The full article appeared in our print edition. To always get the full story, read Downtown Idea Exchange.