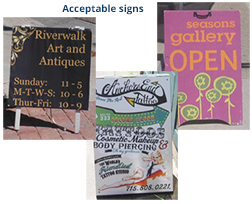 In an effort to balance sidewalk safety, downtown aesthetics, and small business owners' desire to increase outreach to customers, many communities are re-examining portable signage ordinances.
Because digital signage has become more affordable, it is also increasing in popularity and must be taken into consideration when drafting new regulations.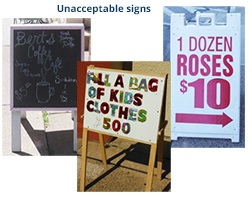 The February issue of Downtown Idea Exchange looks at changes underway in a number of cities including the Village of Osceola, WI, where the goals were to create uniform standards regarding the appearance and location of
portable signs, allow individuality and creativity to enhance the character of the downtown district, maintain safe conditions for pedestrians and motorists, and meet the need for additional regulations without creating cumbersome requirements.
To ensure that everyone understands the new rules, an illustrated appendix accompanies Osceola's sign ordinance.
The full article appeared in our print edition. To always get the full story, read Downtown Idea Exchange.