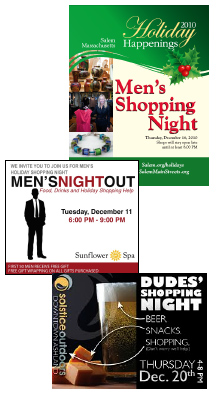 Offering men the opportunity to attend a fun event while getting some help with holiday shopping and wrapping is a good way to encourage more male customers to venture into downtown shops.
Many individual retailers offer men-only holiday shopping events, and downtown organizations are beginning to see value in this approach, as well.
For example, an "exclusive men's shopping event" offered at the Sherway Gardens Mall in Toronto, ON, Canada, would be replicable in any downtown. The event included food, drinks, "dude-friendly" movies, personal shopping assistance, complimentary gift wrapping, and courier service.
The Downtown Alexandria Merchants Association in Alexandria, MN, hosts a Girls Night Out during its annual Fall Festival, so during the Hometown Christmas Experience, the organization offers an event just for men. Participating merchants are listed on a wish list that men can share with the women on their shopping lists — and can bring with them to the Men's Night Out event. In addition to discounts during the event, men have an opportunity to enter wish lists into a drawing for a $250 gift certificate good at downtown businesses.
And in downtown Easton, PA, a trolley shuttles men around to a dozen downtown shops offering Men's Shopping Night specials, and perks such as free gift-wrapping, beer, and personal shopping assistance. Free parking is available to all downtown customers on Saturdays in December at specially marked meters, as well.
The full article appeared in our print edition. To always get the full story, read Downtown Idea Exchange.