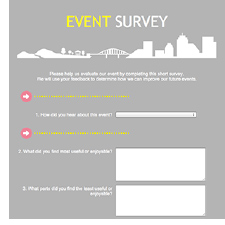 An effective, accurate survey can help demonstrate the economic boost brought to city centers during downtown festivals and events. Having those numbers in hand can help event producers defend budgets, attain funding, and quell objections from those who think downtown events are too disruptive.
This month in Downtown Promotion Reporter newsletter, Patrick Tierney, chair of the Recreation, Parks and Tourism department at San Francisco State University, explains how to gather and analyze event data. But first, Tierney considers who will do the heavy lifting.
The hard work of gathering and analyzing economic impact data can be done in-house by the event organizer, by a local college or university, or by a consultant. For those on a tight budget, partnering with a university brings experience and credibility to the process, says Tierney, because, "you have somebody else doing all the work and doing it in a consistent and tested manner. Or you can do it yourself, knowing that your numbers will be viewed suspiciously by political foes or funding organizations, but that the information will still be very helpful for your organization."
The full article appeared in our print edition. To always get the full story, read Downtown Idea Exchange.