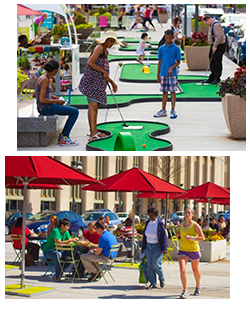 Through an intensive data gathering process, the University City District in Philadelphia, PA, has converted a barren stretch of sidewalk into a successful public plaza. The space was originally devoted to 33 parallel parking spaces, but was converted to a 55-foot by 500-foot sidewalk area during a DOT project.
The District, "quickly humanized the space" with a relatively modest and fully removable set of furnishings, and then enlivened the space with an eclectic range of programs.
These improvements were accompanied by a rigorous study of site usage patterns intended to inform a more capital- intensive, long-term vision for the space. One year after The Porch at 30th Street was unveiled, it was already the site of: 250 places to sit; 20 gourmet food trucks; 1,300 pop-up beer garden patrons; 19 farmers market days; $1,165,000 private dollars raised; and 1,600 rounds of miniature golf.
The full article appeared in our print edition. To always get the full story, read Downtown Idea Exchange.