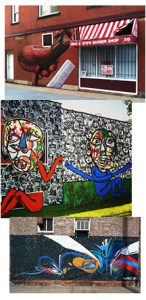 An innovative pilot program in Cleveland, OH, is providing affordable artist housing while also building a stronger creative economy for the city.
The Artist in Residence Program is a joint venture between the Northeast Shores Development Corporation and the Community Partnership for Arts and Culture.
Several tools have been developed to attract artists and help them succeed.
A low-interest loan program is offered as well as grants to support community art projects. Rehab houses are available to artists willing to "roll up their sleeves" for as little as $6,500, while fully rehabbed, modernized, energy-efficient homes are available for as little as $75,000.
Additional grants and loans are available for building repairs, maintenance, and upgrades.
"Beyond this, we also offer a range of services to help people get connected in the neighborhood and elsewhere in Cleveland," says the development corporation. "We help people work through their business start-up ideas, provide fiscal sponsorship services for artists who want to start a neighborhood community initiative, and can get artists in contact with our arts anchors and groups like block clubs and merchant associations."
The full article appeared in our print edition. To always get the full story, read Downtown Idea Exchange.