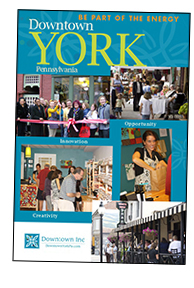 Attracting retail to the city center is easier with staff dedicated to that mission. In York, PA, a creative funding solution has allowed Downtown Inc. to hire a recruitment specialist, and retailers are moving downtown.
"We are a 28-year-old Main Street organization and BID so we are sort of a hybrid, which affords us a sustainable income," says Sonia Huntzinger, executive director.
"But one key component that was missing was somebody actively out recruiting new businesses, to tell the story of revitalization efforts downtown. We went to our city, our philanthropic organizations, our countywide economic development council, and the convention and visitors bureau and partnered to pull together a salary for three years.
After 22 months on the job, the downtown's business development liaison has made over 300 recruiting visits, developed recruitment materials, helped new businesses locate space, and fast-tracked them through the permitting process.
The full article appeared in our print edition. To always get the full story, read Downtown Idea Exchange.