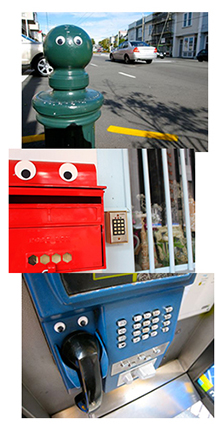 Guerilla placemaking initiatives are often low-cost, yet create a high-impact and unexpected vibrancy downtown with minimal municipal input.
One example featured in the May issue of Downtown Promotion Reporter newsletter is the Eye Love You project, which, "connects people with people, and people with places."
The movement began in New Zealand, but has gone global. The premise of the project is this: it's kind to make people smile; people and places come alive when we love them; and you are loved and you can love anyone or anything.
Participants show their love by first using their own eyes to look at places in a new way, and then giving various inanimate objects a personality by pasting eyes on them. Photos are then shared on the website and via the project's Flikr account.
The full article appeared in our print edition. To always get the full story, read Downtown Idea Exchange.