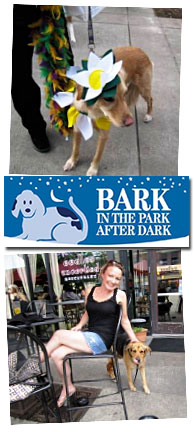 As more people embrace the urban lifestyle, pets are moving to city centers with their owners. That trend has increased the demand for downtown dog parks, which in turn, attract more pet-loving residents and visitors, creating a cycle of revitalization that benefits people, pooches, and businesses. Increasingly, communities are realizing that being people- friendly means being pet friendly, too.
Knoxville, TN, has committed to making the city the "Most Pet Friendly Community" in the nation.
Activities include opening new dog parks, encouraging downtown restaurants to allow dogs in their outdoor dining areas, and partnering with www.petfriendliestcommunity.com, to connect pet owners to pet-friendly events, activities, and businesses.
Among its many initiatives, the city also hosts a series of dog-centric events that raise funds for local shelters and give pet owners a chance to socialize with their four-legged friends and with each other.
The Mardi Growl each March includes a costumed parade for dogs with prizes for categories including Best Costume, Best Naked Dog, Dog/Owner Look Alike, and Most Congenial. The registration fee is $20. Low-cost rabies vaccinations and microchips are also available, and vendors are on hand to display pet-related products.
The Bark in the Park event each June includes live music, food for two-legged and four-legged guests, pet product vendors, games, and contests. Registration for the Memorial Walk during the event costs $20 in advance; $25 that day, and includes swag for the pet and its person as well as a one-year membership to the local chapter of the Humane Society.
Other offerings include Doggie Date Night, and Yappy Hour events.
The full article appeared in our print edition. To always get the full story, read Downtown Idea Exchange.