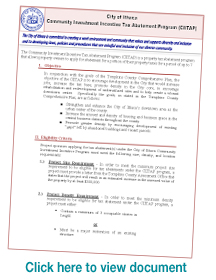 Knowing the market potential, offering incentives, creating appropriate zoning, and facilitating connections between the city, developers, and potential residents all play a role in creating more housing in downtown Ithaca, NY.
"There are three major things we've done to stimulate development of residential," says Gary Ferguson, executive director of the Downtown Ithaca Alliance.
"We've worked hard to put together an incentive program, a tax abatement program with a downtown focus, which can provide stepped abatement for mixed-use and residential projects," Ferguson says.
Second, the alliance is working with the city on a downtown rezoning package designed to create more opportunities for vertical density by changing building height restrictions, and that will extend the commercial business district borders, allowing for larger downtown development projects.
And third, the Alliance does housing studies on a regular basis, says Ferguson. "We contract with folks to come into our community to do market demand and absorption studies for our downtown market so that we can squarely, accurately, and earnestly sit down with a downtown developer or investor and say where the market presents opportunities. Over the years, that has opened the eyes of a great many people to our downtown opportunities."
The full article appeared in our print edition. To always get the full story, read Downtown Idea Exchange.