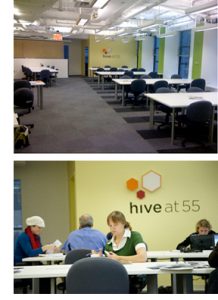 By securing the right space and offering a creative mix of programs, events, and office amenities, the Alliance for Downtown New York shows the way to draw entrepreneurs downtown.
Co-working spaces, which provide access to office equipment, support, and networking opportunities, were a relatively new concept in the city when the Hive at 55 opened.
Two of the many important start-up lessons shared in the March issue of Downtown Idea Exchange are:
1. Gather input from potential tenants early in the process. As part of its market research, the Downtown Alliance hosted a jelly, a small, informal co-working meeting. The event had a good turnout and indicated a demand for expanded co-working opportunities.
2. Find the right space. "It's important to have a landlord who is on board and understands the concept, and that there may be people working all night, visitors constantly coming and going, and a lot of events," says Daria Siegel, director of the Hive at 55. "A constant influx of people doesn't work in every building,' she says.
The full article appeared in our print edition. To always get the full story, read Downtown Idea Exchange.