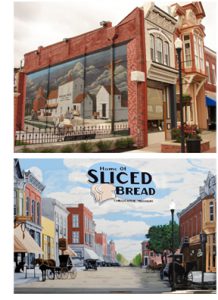 In an effort to highlight downtown heritage, add visual interest, educate people about the community's history, and draw visitors downtown, Chillicothe, MO, embarked on a mural program
"Work on the murals started in the mid-1990s," says Crystal Narr, director of Main Street Chillicothe. There are currently 17 murals and two "ghost signs," which are business signs from the past re-created on selected buildings.
Each building with a mural also features a plaque explaining the history of the building and why it is significant, as well as the names of any benefactors. A colorful map that includes information about the artist, as well as photographs of each mural and information about each site is available to guide visitors through the downtown.
"The murals are one of our greatest assets downtown because they are lit and visible 24 hours a day, seven days a week," Narr says.
The full article appeared in our print edition. To always get the full story, read Downtown Idea Exchange.