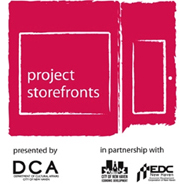 The Office of Arts, Culture and Tourism in New Haven, CT, is using art to fill downtown vacancies and revitalize neighborhoods while also transforming would-be entrepreneurs from hobbyists to small business owners.
The department looked at models of how art addresses the issues of vacancy and revitalization in other cities, and found pop-ups interesting, but wanted a more permanent solution, says Vivian Nabeta, director of Arts, Culture and Tourism for the city.
The result is Project Storefronts, a program that provides artists with the skills to build a business around their art, and matches them with affordable temporary workspace downtown.
But it's not enough to get the public through the doors of new small businesses, Nabeta says. The public needs to be engaged. To this end, each entrepreneur hosts events specific to his or her skill, whether that be lessons on wreath making, or organizing a children's activity.
"We've had four locations already, three of which we were kicked out of," Nabeta says. All three, once activated with entrepreneurial businesses, got noticed by new tenants outside of Project Storefronts.
The full article appeared in our print edition. To always get the full story, read Downtown Idea Exchange.