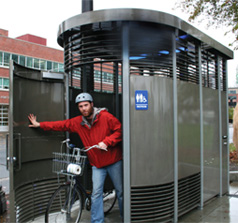 A lack, or even perceived lack, of public restrooms downtown can lead to visitor dissatisfaction, as well as the more unsightly problem of public urination.
Communities are finding that the expense of adding public restrooms is worthwhile because it keeps downtown cleaner, and provides visitors with a more comfortable experience, which in turn encourages them to remain downtown longer.
Some cities are financing new construction, while others are finding innovative ways to meet the need while keeping expenses to a minimum. For example, in Traverse City, MI, the Downtown Development Authority is partnering with businesses on Main Street, which have agreed to be designated as having public restrooms.
The full article appeared in our print edition. To always get the full story, read Downtown Idea Exchange.