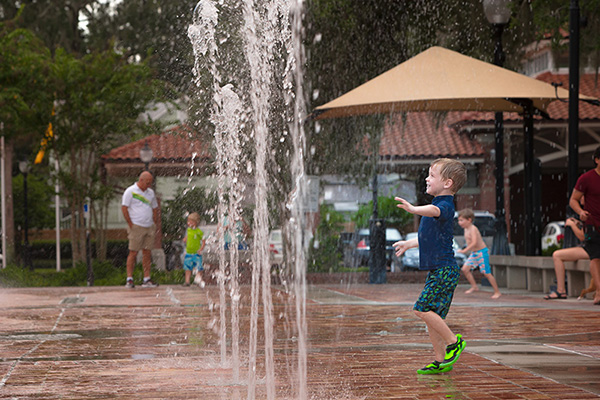 The summer kicked off with record-breaking heat across much of the U.S. In the Southwest and South-east, the "feels-like" temperatures soared well above 100 degrees in July.
For downtown leaders, the oppressive temperatures complicated plans for outdoor events — and they served as a reminder that cities need to start planning for intense heat.
While more dramatic natural disasters such as hurricanes, wildfires, and tornadoes get much of the attention, heat stress actually claims more lives than other weather events, says Morgan Zabow, community heat and health information coordinator at the National Oceanic and Atmospheric Administration's Climate Program Office.
Zabow suggests strategies for cities looking to make their urban areas more resistant to heat:
Understand the heat. Heat mapping has helped city officials identify and respond to urban hot spots. For instance, Las Vegas heat maps showed that some bus stops were located in the hottest areas of the city. As a result, the city installed shade structures at those transit stops.
Plant more trees. Many cities have embarked on formal campaigns to plant more trees. Intriguingly, Zabow says urban heat islands can occur in small cities — meaning that investing in urban forestry isn't just for major cities, or for those in the Sun Belt. And trees aren't the only way to cool your downtown — plantings, grass, and rooftop gardens can also lower the mercury.
Designate cooling centers. Residents who don't have air conditioning are particularly susceptible to heat stress. To help them, NOAA suggests designating cooling centers — libraries, churches, and other locations that open their doors in times of extreme heat.
Get creative. Many cities have built splash pads, small water parks that help children cool off in sweltering temperatures. Some downtown leaders have begun to hand out umbrellas and parasols to protect visitors from the sun during outdoor events. And in Raleigh, NC, the city has coated pavement with titanium dioxide in an effort to lower temperatures by reflecting solar heat.
More on coping with rising temperatures appears in the issue of Downtown Idea Exchange newsletter. Click to learn more about Downtown Idea Exchange and other resources for revitalizing downtowns and commercial corridors.