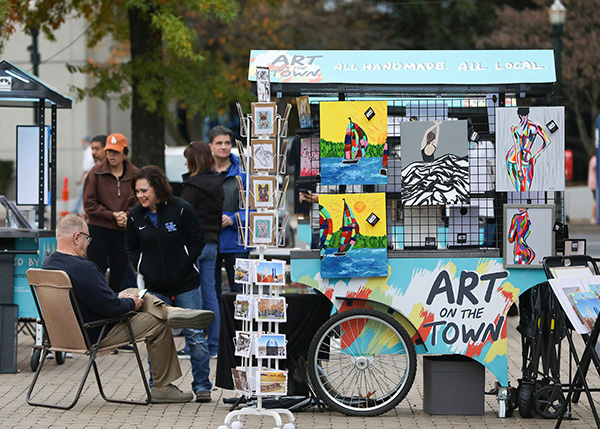 Art on the Town was created to help artists in Lexington, KY, show and sell their work. The program features eight carts that are available seven days a week at no cost to artists.
"The carts are mobile and can move around within several areas of downtown Lexington," says Heather Lyons, director of arts and cultural affairs. "Artists are welcome to set up anytime in plaza areas along the newly completed Town Branch Commons in downtown Lexington." The carts can also be used at the Saturday farmers market, the weekly Thursday Night Live, Gallery HOP nights, and other fairs and festivals.
Lyons says that the carts have been successful since their launch in May 2022. "The public reaction has been wonderful," she says. "Our community members and visitors love seeing and engaging with artists on the street. Many artists are not only selling their work but also creating new pieces at their cart location so visitors and community members get to see artists working as well."
More on bringing the arts downtown appears in the March issue of Downtown Idea Exchange newsletter. Click below to learn more about Downtown Idea Exchange and other resources for revitalizing downtowns and commercial corridors.