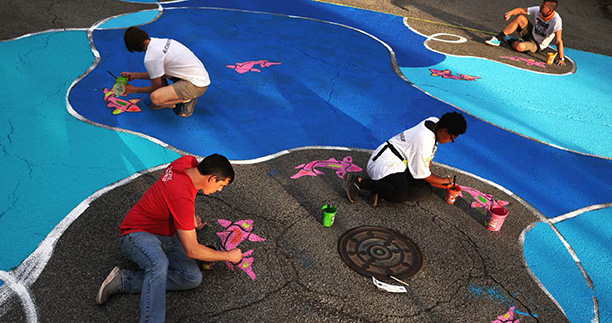 Louisville, KY, will use public art to improve pedestrian safety at four downtown intersections.
Louisville's new Community Crosswalks program was inspired by the Asphalt Art Safety Study. The study by Bloomberg Philanthropies found that after asphalt art was installed, intersections experienced a 50 percent drop in crashes involving pedestrians or cyclists and a 37 percent reduction in crashes leading to injuries.
That research looked at 17 intersections in half a dozen states. The crosswalks studied included downtown locations in Atlanta, GA, Cambridge, MA, Decatur, GA, and St. Petersburg, FL.
Louisville's program calls for local artists to decorate crosswalks in a way that showcases the city's art and culture, while also improving safety for pedestrians.
The Community Crosswalks program is in a pilot phase with four crosswalks scheduled to be completed by the end of April. If it's successful, the program will open to community groups and local businesses that wish to contribute to their neighborhoods and create safe, walkable spaces.
More on asphalt art appears in the April issue of Downtown Idea Exchange newsletter. Click to learn more about Downtown Idea Exchange and other resources for revitalizing downtowns and commercial corridors.