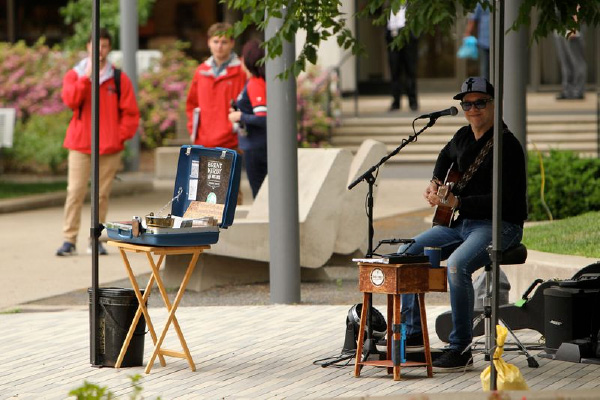 Like many downtowns, Cleveland has struggled to adapt to post-pandemic patterns of commuting and visitation.
As of September 2022, the city was getting 80 percent of the overall visits it experienced in 2019. And visits to office buildings had plummeted to just 61 percent of prepandemic levels.
Given that harsh reality, the Downtown Cleveland Alliance and the City of Cleveland are working to accelerate the return of office workers to the city center. In one initiative designed to create a lively and unique atmosphere, the Alliance started a Downtown Busker Program for musicians, mimes, comedians, poets, puppeteers, balloon twisters, and other performance artists.
Michael Deemer, president and CEO of the Downtown Cleveland Alliance says the busker performances are, "Unique and intimate activations that are easy to engage with are just more fun and attractive to city-goers." He continues: "Clevelanders want to be able to walk down the street at any time of day and come upon experiences that make them feel excited about their city, and buskers bring a level of vibrancy and life to our streets that other amenities cannot."
Buskers perform at 20 designated locations known as pitches. The pitches were selected to give performers maximum visibility without interrupting the flow of pedestrian traffic.
A look at four downtown busker programs appears in the November issue of Downtown Idea Exchange. Click to learn more about Downtown Idea Exchange and other resources for revitalizing downtowns and commercial corridors.