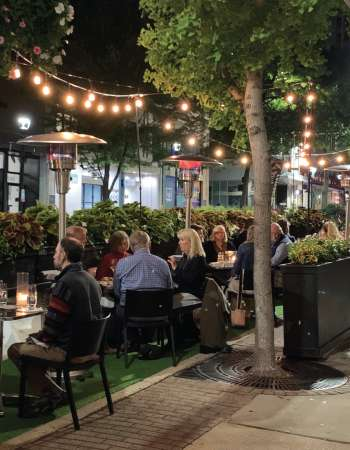 Greensboro, NC, will launch a downtown social district in March. Within its boundaries, visitors will be able to stroll while carrying alcoholic beverages in specially labeled plastic cups.
Greensboro is one of a number of North Carolina cities that have enacted, or are considering, downtown social districts after Gov. Roy Cooper signed a law in 2021 allowing public consumption of alcohol.
State officials in California, Michigan, and elsewhere have also been loosening alcohol rules. The new wave of deregulation is driven by the idea that Americans want to go back downtown, but that they still aren't keen on sharing indoor space with others in a pandemic.
The North Carolina Retail Merchants Association pushed for the state's relaxation of alcohol laws, and cities jumped on board. The North Carolina House version of the bill was known as Bring Business Back Downtown.
Greensboro's social district ordinance follows the contours of the new state law. Downtown patrons can carry open cups of wine, beer, or mixed drinks bought from bars or restaurants participating in the city program.
The ordinance limits cup sizes to 16 ounces. Containers must not be made of glass and must identify the business that sold the drink. Signs will mark the boundaries of the social district.
Business owners, Greensboro police, and downtown safety ambassadors will be familiar with the rules, city officials say.
The full story on bringing social districts downtown plus articles on making parklets permanent and event-funding grants appear in the February issue of Downtown Idea Exchange. Click to learn more about Downtown Idea Exchange and other resources for revitalizing downtowns and commercial corridors.