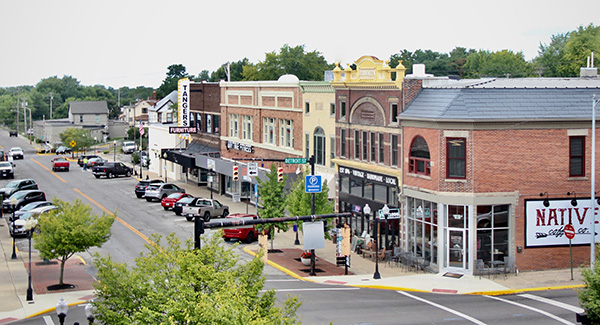 When Jason Duff was growing up in Bellefontaine, OH (est. pop. 13,574), his family owned a Hallmark card store downtown. The city center was thriving, and Duff recalls fond memories of working in his parents' shop and learning to tie a necktie at the men's clothing store downtown.
But in the 1990s and the first decade of the 2000s, downtown Bellefontaine was nearly knocked out by a one-two punch. The first blow came with the arrival of national retailers on the outskirts of town.
Bellefontaine wasn't big enough to attract a regional mall, but Logan County (est. pop. 45,316) boasted sufficient purchasing power to attract a big-name discounter.
"When the first Walmart came to Ohio in 1987, it opened in Bellefontaine," Duff says. "I remember my parents being really concerned."
Walmart's arrival staggered downtown's merchants. Other national retailers followed, and Walmart's neighbors in Bellefontaine today include Lowe's Home Improvement, Big Lots, Harbor Freight Tools, Tractor Supply Co., and Dunham's Sports.
The second blow, the Great Recession, left the already-fading town center reeling.
During the financial crisis, Bellefontaine was forced to cut funding for its downtown partnership. The city lost its Main Street status, and the nonprofit's downtown website was hijacked by a hacker who demanded a ransom.
By 2010, Duff says, downtown Bellefontaine had emptied out. While the county courthouse served as an anchor, 80 percent of ground-floor retail space stood vacant. Many historic buildings fell into disrepair.
In the past decade, Duff has spearheaded a dramatic turnaround in his hometown. He ticks off the list of accomplishments: Downtown Bellefontaine is home to seven full-service restaurants, two coffeeshops, 38 new apartments, two florists, and two gyms. In a sign of hipster credibility, a new axe-throwing venue recently opened. There's even a coworking space.
"People came back downtown and started thinking about the town in a different way," he says.
There is a catch, though, one that might make this comeback difficult to replicate: Duff — acting as private developer, chief visionary, and head cheerleader — has driven the turnaround himself.
A privately funded initiative
Bellefontaine is situated northwest of Columbus in an unusually hilly part of the state. Its elevation is 1,200 feet, and a ski resort does business near town, bringing in visitors during winter.
As the financial crash hit, Duff had recently graduated from college. He hadn't had much success as a real estate agent, his first career, but he loved downtown. Bellefontaine has "the coolest buildings in the world," he says — historic brick structures with such features as tin ceilings.
Duff decided to try his hand at property investment. His first acquisition came in the pit of the Great Recession, when Duff bought a building across the street from the county courthouse. The structure dated to the 1890s, and the hole in the roof reflected the building's state of disrepair. But it occupied a prime location, with 14,000 cars a day passing by.
Duff spent $78,000 on the property and an additional $100,000 to renovate it.
Duff ultimately leased the Main Street building to a restaurant that has become a staple of downtown's revival. The restaurant, gourmet pizzeria Six Hundred, has been featured on Food Network and attracts diners from as far as an hour away.
Inspired by that first win, Duff has since bought dozens of properties in downtown Bellefontaine, many of them for $10,000 or less.
"What makes our model a little different is that we have not used any public funding," Duff says.
Duff launched a company, Small Nation, that has become the largest property owner in downtown Bellefontaine.
To fund his purchases, Duff got creative. He recognized that small, independent businesses needed marketing support. So he launched a billboard company, Comstor Outdoor, with 400 locations in Ohio and Indiana. The target market is independent businesses, and the billboards throw off enough revenue that Duff can afford to invest in buildings in downtown Bellefontaine. He typically finances the acquisitions with loans from community banks.
Duff has become a champion of small-downtown revival, speaking at conferences and talking up his approach to the media. Duff stresses that he hasn't done it all himself. He has relied on the energy of other downtown advocates, along with help from city officials who have been willing to be flexible for Duff's downtown tenants.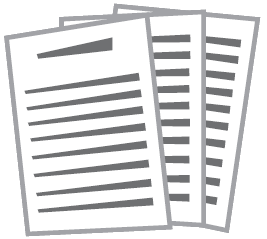 In one case, the city allowed a downtown bakery to repurpose an underused alleyway as a drive-through. In another instance of public-private cooperation, Duff persuaded the city to allow sidewalk dining well before the pandemic made that sort of accommodation commonplace.
"That was a big ask," Duff says.
Now Duff is hoping that his hometown can cash in on a nationwide migration away from the most expensive city centers. And he occasionally travels to Manhattan or Chicago to take stock of trends in retail and workplaces.
"What happens in New York takes two years to hit Chicago," Duff says. "What happens in Chicago takes three years to hit Columbus."
Coworking and a business incubator
Duff's travels led him to open Bellefontaine's first coworking space. He acknowledges the concept was far from an obvious one in small-town Ohio.
"People made fun of me when I first showed photos of it," Duff says. "Being the contrarian is something I've always enjoyed."
He pushed ahead anyway, opening a coworking space anchored by a taco and tequila restaurant. Every available spot at BUILD Cowork + Space is leased, and the location has 130 members paying $99 a month for spots.
Small-town coworking proved so successful that Duff plans a second location in downtown Marysville, OH. That expansion points to Duff's ambitions to apply the Bellefontaine model to other downtowns in Ohio.
Duff also operates something of a business incubator in downtown Bellefontaine. He bought a long-vacant 21,000-square-foot building that was home to a downtown department store. Duff recast the space as Main Street Marketplace.
The idea is to offer small spaces and affordable rents to startup entrepreneurs. To attract tenants, Duff set rents low enough that the expense doesn't pose a barrier to entry.
Main Street Marketplace has placed a beauty salon and a specialty retail store as the anchors to the property with windowed frontage along Main Street. Other tenants include a massage therapist, clothing boutiques, self-defense training services, a mortgage bank, a hypnotherapist, and a gun shop.
In total, Small Nation invested $350,000 in the renovation of the property. It houses 27 rental spaces, and about 150 people a day visit the space.
Main Street Marketplace hosts two daily Jazzercise classes, and the rear entrance is anchored by an artisan bakery.
Duff treats the Jazzercise members as his unofficial marketing team: When a new tenant comes to downtown, Duff makes sure to stop by the bakery after Jazzercise class, where gym members drink coffee. He tells the group the latest news, and word spreads quickly.
In Small Nation's biggest single deal in downtown Bellefontaine, the company last year took ownership of a block-long historic building with a dozen storefronts and 40,000 square feet of space.
Small Nation's efforts have jump-started downtown to the extent that other investors have begun to recognize its potential.
"Nobody wanted to buy anything here," Duff says. "Now, other investors do see the town as significant, and they want to get in the game."
Duff is quick to stress that Bellefontaine's turnaround hasn't been a miracle. It's the result of years of focused work.
"I knew this town could be a great turnaround story," he says. "I knew it wasn't going to be easy. I will never feel like we've done enough. It's always evolving.
Contact: Jason Duff, Small Nation, 937-686-0214.