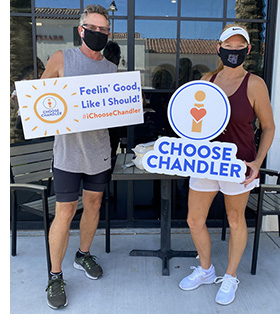 In Chandler, AZ, city officials are combating the coronavirus downturn by marketing local businesses to consumers.
The "I Choose Chandler" video reminds viewers that the city's restaurants, gyms, clothing boutiques, and barbershops are open for business. The spot takes a subtle dig at online retailers, and the campaign urges local residents to support their neighbors.
Part of the pitch: Money spent at local businesses stays in the community, rather than flowing to far-away corporate headquarters.
"We're making sure they understand how spending in our community benefits our city, and we're telling them how shopping online is negatively impacting our brick-and-mortar stores," says Dawn Lang, Chandler's management services director.
The campaign is relying on residents to support businesses with their dollars and with their social networks. Residents are encouraged to tag social media posts about Chandler using @VisitChandler on Facebook and Instagram. To use the hashtag #iChooseChandler on their Chandler-based social media posts. And to use I Choose Chandler social stickers on Instagram and Facebook stories.
The initiative also includes some in-person marketing. The #iChooseChandler team is on the streets on Feel Good Fridays. The team is often joined by local politicians including the mayor. The team pops up at carefully selected locations where they surprise shoppers with $25 gift cards.
Blog posts based on Feel Good Fridays visits feature the lucky winners and details on why they choose to live, work, and play in Chandler, as well as information on the business that the team is visiting.
More on the I Choose Chandler campaign appears in the December issue of Downtown Idea Exchange. Click to learn more about Downtown Idea Exchange and other resources for revitalizing downtowns and commercial corridors.