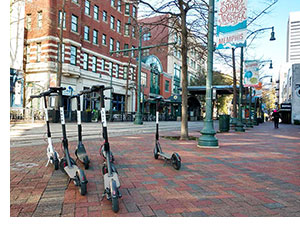 Does downtown Memphis, TN, have too much parking, or too little? The complicated answer is "Yes" to both queries.
"It really depends on when, where, and how far away you want to park," says Brett Roler, vice president of planning and development at the Downtown Memphis Commission. Visitors can struggle to find spots at peak hours. But, at any given moment, downtown has thousands of empty spots.
It's just that many of those open spaces are in private garages and not accessible to most motorists. Or the spots are in parking lots outside of the four- to five-block sweet spot that most visitors are willing to walk.
Roler recently described the city's three-part approach to downtown parking:
Use existing parking first. Memphis has begun using sharing agreements to unlock private parking for public use. The goal is to increase use of private garages for downtown offices — those facilities have many spaces that go unused from 5 p.m. until 9 a.m.
Build new parking strategically and sparingly. Memphis has begun using a parking investment decision tool that factors in a variety of variables. The model seeks to balance the costs and benefits of spending public dollars on parking.
For instance, the tool looks at the goal of relieving pressure in high-demand areas. The tool also gauges public investment against the parking capacity gained, and the economic impact of new parking.
Focus on mobility rather than parking. The Downtown Parking Authority recently changed its name to the Downtown Mobility Authority. Memphis is taking a more holistic approach, so that it doesn't focus on parking alone but on broader issues such as walkability and shared transit.
That means creating wayfinding signs, improving blighted blocks, and otherwise encouraging walking as a safe and pleasant experience.
More Memphis, TN's, approach to downtown parking appears in the November issue of Downtown Idea Exchange. Click to learn more about Downtown Idea Exchange and other resources for revitalizing downtowns and commercial corridors.