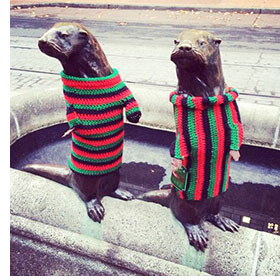 The COVID-19 pandemic forced many downtowns to rethink their outdoor spaces. By summer, downtown leaders had adapted — vacant lots, sidewalks, and even streets gave way to al fresco dining.
Now, though, the changing of the seasons will present a new challenge: Are downtown visitors willing to sit outside when the weather turns cold?
"Everybody is scrambling to find the best way to prepare their cities for winter," says Jaime Izurieta of Storefront Mastery. In addition to stocking up on propane heaters, Izurieta advises changing perceptions.
He suggests embracing cold weather in the spirit of polar-bear plunges, the New Year's tradition that finds people plunging into frigid waters.
This winter will be a challenge, he says. You can provide tents and outdoor heaters, but if you don't entice visitors with creative events and promotions, your downtown will be empty. The solution, he says, is to think like a European.
Most Americans move inside during the winter months, but in northern Europe, people enjoy outdoor markets and other outdoor events all winter. "People really don't mind the cold," Izurieta says.
He also advises raising the perceived temperature, if not the actual mercury, through "guerilla warming." Install temporary wind-breaks, paint "warm murals," roll colorful yarn and lights around trees that have lost their leaves, and use banners that tout wintertime events.
"When people are looking at these warm displays, it feels warmer," Izurieta says.
Giving out free stuff is another tried-and-true tactic. Blankets, scarves, coffee, tea, hot chocolate, or hot cider can all make visitors feel warm and welcome.
More approaches to reopening, repositioning, and moving forward appear in the November issue of Downtown Idea Exchange. Click to learn more about Downtown Idea Exchange and other resources for revitalizing downtowns and commercial corridors.