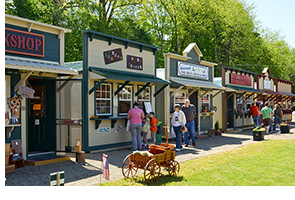 A concept born from desperation offers inspiration for downtown leaders grappling with the pandemic.
In tiny Tionesta, PA, a long-vacant lot was transformed into an outdoor shopping experience and business incubator using garden sheds.
The project started during a 2012 meeting of the Forest County Industrial Development Corp. and the Forest County Industrial & Commercial Development Authority.
A local resident suggested adapting the concept of mall kiosks to the outdoor space.
For about $40,000, the county bought the kiosks, landscaped the once-vacant lot, and installed electrical connections. Community members donated additional money for benches and a playground, and Tionesta Market Village launched in 2013.
The Market Village operates from Memorial Day to Labor Day, and tenants must agree to be open at least three days a week. There are three sizes of sheds — 120, 140, and 160 square feet. Tenants pay $50, $60, or $70 a month to occupy the space.
There's little turnover among merchants, says Farley Wright, president of the Forest County Industrial Development Corp. Some, such as the bakery and the winery, have other locations in the area. Others switch to e-commerce for the remaining nine months of the year.
The overall project has been far more successful than Wright anticipated. He has even spoken to officials in other small towns along the Allegheny River about creating a string of outdoor markets and jointly marketing them as an attraction.
More approaches to reopening, repositioning, and moving forward appear in the October issue of Downtown Idea Exchange. Click to learn more about Downtown Idea Exchange and other resources for revitalizing downtowns and commercial corridors.