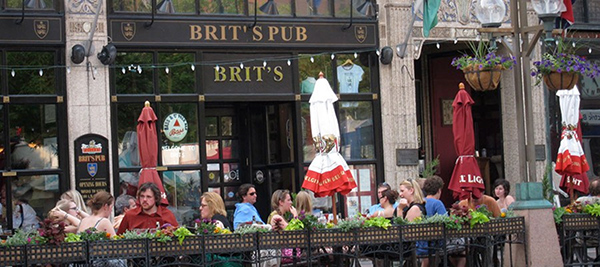 A few years ago, Nicollet Mall in downtown Minneapolis experienced something of a dress rehearsal for the COVID-19 pandemic. When the pedestrian street was disrupted by construction in 2018, pedestrian traffic dropped from 20,000 people a day to 13,000.
"It was kind of a ghost town during construction," says Lisa Middag, director of Nicollet Activation at the Minneapolis Downtown Improvement District. "People had trained themselves to avoid it."
To bring back visitors after the construction project, the Minneapolis Downtown Improvement District (DID) focused on events. There was a farmers market, along with daytime activities highlighted by a steady stream of street performances.
The street performers were mostly musicians, but the offerings also included poets, dancers, and even visual artists.
"We have a performance painter who will paint a canvas while everyone is watching," Middag says.
Buskers were encouraged to put out tip jars and sell items, but the reality is that few passers-by tip, she says. So the DID paid street performers for their time. Solo performers got $50 an hour for two-hour gigs.
The very idea of officially sponsored street performances struck many buskers as unusual, Middag says. "Most thought performing downtown was illegal."
Middag coached performers about the rules — playing on the street is legal, so long as musicians comply with certain rules.
Known as Street Show, the DID's curated street performer program offered hundreds of hours of sidewalk performances. It received media coverage and inspired a Facebook group for buskers.
Meanwhile, the buzz lured performers to the mall on their own, without being hired by the DID.
The construction-imposed drop in traffic has some parallels to the coronavirus pandemic. But recovering from COVID-19 might not be as simple.
For instance, the coronavirus pandemic stopped street performances just as they had gained significant momentum. To keep the popular offering alive, the Minneapolis DID began promoting online performances on its website.
When live performances return, the DID plans to introduce a way for performers to collect tips via credit card.
"Nobody carries cash any more," Middag says.
More on downtowns reopening, repositioning, and moving forward appears in the October issue of Downtown Idea Exchange. Click to learn more about Downtown Idea Exchange and other resources for revitalizing downtowns and commercial corridors.