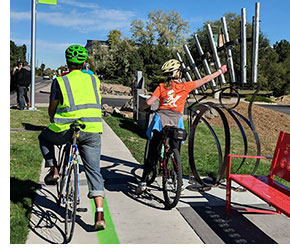 In Lakewood, CO, a four-mile long art trail is winning kudos for bringing new energy to a long-neglected neighborhood.
The 40 West ArtLine includes 70 works of art, among them interactive sculptures, murals along the walking and biking path, and installations on fences that border the ArtLine.
Modeled in part on the Boston Freedom Trail, which features a 2.5-mile-long red line that connects historic sites, the 40 West ArtLine follows a green line linking parks, neighborhoods, businesses, and a light rail station.
Over two dozen artists participated in the project with dozens of volunteers assisting with the installations.
The value of volunteer participation cannot be overstated, says Alexis Moore, principal planner for the City of Lakewood. "The community can help create temporary art installations with the assistance of artists who are paid for their time to help design and lead these projects. It is a cost-effective way to beautify a place and create local buy-in and support, and it provides opportunities for local artists."
Because many of the pieces are temporary, they are only "moderately" maintained and may be decommissioned within one to three years.
"This allows opportunities for new art and artists and creates an exciting, dynamic experience for visitors who can experience the ArtLine in new ways over time," says Moore.
More on downtown art trails, plus rethinking parking requirements, and bouncing back after a flood, appears in the February issue of Downtown Idea Exchange. Click to learn more about Downtown Idea Exchange and other resources for revitalizing downtowns and commercial corridors.