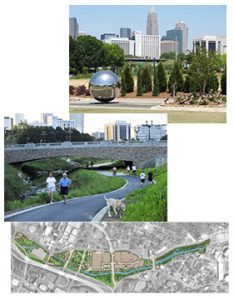 Ambitious projects to revitalize underutilized green space in Charlotte, NC, are improving the quality of life for residents and downtown employees while also showcasing all that the city has to offer, and providing vital connections that bring more people downtown.
The Little Sugar Creek Greenway project included restoration of an urban stream and creation of a linear park along its banks, while the proposed Charlotte Rail Trail project will provide amenities along a concrete walkway following the path of the city's light rail service.
The multiple goals of the project, which included creating a destination for tourism and recreation, improved water and air quality, providing a safe alternative transportation route, and improving health and fitness, put the project in line for varied funding sources including federal, state, and local government sources as well as private foundations and organizations.
Every dollar spent on the greenway is expected to generate at least $3 of private development. One early indicator of success on that front is a new multi-use development that has gone up beside the greenway.
The full article appeared in our print edition. To always get the full story, read Downtown Idea Exchange.