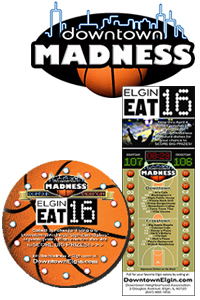 Having a multitude of great dining venues downtown only benefits the city center if people know about them, and visit them. To spotlight the vibrant downtown dining scene in Elgin, IL, the Downtown Neighborhood Association launched an annual Downtown Madness campaign.
Much like the National Collegiate Athletic Association's March Madness basketball tournament, Downtown Madness is structured to tap into the competitive spirit of diners loyal to specific downtown eateries.
The Downtown Madness brackets are filled with restaurants, rather than basketball teams, with the competition focused on a particular food or beverage for which each establishment is best known.
To keep the tension high, voting updates were posted daily on all of the organization's social media platforms and in its blog.
The full article appeared in our print edition. To always get the full story, read Downtown Idea Exchange.