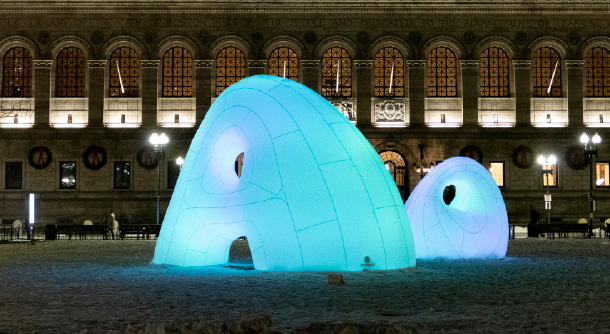 When it comes to radically changing the downtown streetscape and creating compelling attractions, it doesn't get much easier than inflatables.
Turn-key event producers offer giant inflatable waterslides, obstacle courses, and even public art installations. In February, Osuna Park in Peoria, AZ, welcomed the illuminated inflatable "Light at Play: An Interactive Art Experience." The six-piece display was designed by inflatable art studio Pneuhaus.
Opening night festivities included live music and food trucks. After that, visitors could enjoy the installation during the park's regular hours from 6 a.m. to 10:30 p.m.
A less artistic but equally fun inflatable event has drawn crowds to downtown Tulsa, OK, for the past three years. The event, sponsored by a local brewery, is called Sip 'N Slide. It features a 500-foot Slip 'N Slide as well as food trucks, live music, and inflatable pools.
More on downtown events appears in the September issue of Downtown Idea Exchange newsletter. Click to learn more about Downtown Idea Exchange and other resources for revitalizing downtowns and commercial corridors.