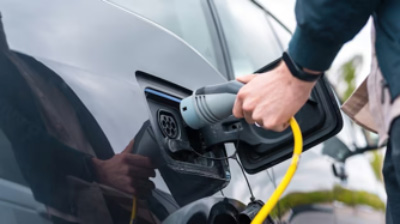 Reading, PA, hopes a big investment in electric vehicle charging stations can give its downtown a reboot.
Downtown leaders in Hamilton, MT, see an EV charging station as a way to generate visits.
The EV boom is in full swing, and downtowns across the country are trying to use it to their advantage. Earlier generations of car culture left downtowns marginalized in many ways, but downtown EV charging stations might be a way for the urban core to reclaim some momentum.
Reading city officials have a multimillion-dollar plan to install dozens of EV charging stations, with high hopes of revitalizing the city by making it easier for workers and visitors to go to Reading and perhaps to attract a new, younger generation of residents as well.
To make that happen, city officials are seeking federal money through the Charging and Fueling Infrastructure Discretionary Grant Program. The program will provide $2.5 billion over the next five years to urban and rural communities, including downtown areas and local neighborhoods.
Meanwhile, downtown leaders in Hamilton, MT, installed their first charging station at city hall. At the time, it was the only EV charging station in the roughly 135 miles between Missoula, MT, and Salmon, ID.
"It takes a little while to charge but they can go downtown, take in a meal and shop in local businesses," City Planner Matthew Rohrbach says. "We're giving electric vehicle drivers a reason to come to Hamilton."
More downtowns growing with EV charging appear in the August issue of Downtown Idea Exchange newsletter. Click to learn more about Downtown Idea Exchange and other resources for revitalizing downtowns and commercial corridors.