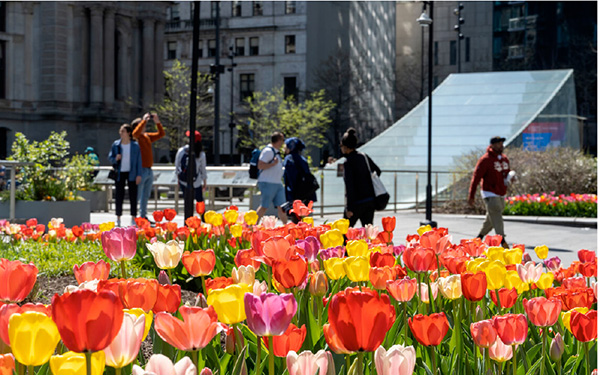 In Philadelphia, downtown leaders are trying to coax workers out of their home offices and back into their formal workplaces. They're setting up activities in building lobbies and assuring commuters that it's safe to return.
In Arlington, VA, a business improvement district is courting workers with water bottles, exercise mats, happy hours, and a more visible police presence.
In important ways, what's happening in today's empty downtowns is the opposite of what happened in the 1980s and 1990s, says Paul Levy, president and chief executive officer of the Center City District in Philadelphia.
Back then, workers came downtown at 9 a.m., then retreated to the suburbs at 5 p.m. Virtual work has flipped that schedule. Now, workers avoid downtown during the day, but they're happy to come downtown to socialize.
To combat that mindset, Center City District has been hosting events to make workers feel more comfortable downtown. In one effort, the district arranged for employers and employees to meet with transit officials and police to address any concerns about safety.
One talking point is a 10.6 percent decline in serious crime within Center City District in 2022 compared to 2019. In another effort to improve the perception of safety, the district has expanded its homeless outreach program. And the organization even pruned hundreds of trees and planted thousands of flower bulbs.
More on downtowns luring workers back appears in the June issue of Downtown Idea Exchange newsletter. Click to learn more about Downtown Idea Exchange and other resources for revitalizing downtowns and commercial corridors.