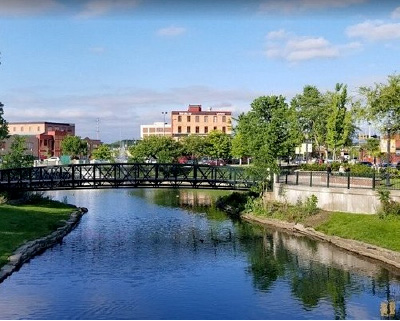 In the 20th century, many cities tried to contain creeks, streams, and small rivers with concrete culverts and other engineering projects.
In the 21st century, growing numbers of waterways are being set free.
Restoring waterways to something like their natural order is a process known as "daylighting." The restoration projects are gaining attention globally and across the U.S.
Cities as varied as St. Louis, Boston, Berkeley, CA, and Dubuque, IA, have uncovered their buried streams. And the work is spreading.
The projects aim to restore natural wetlands and flood control — and they have the welcome side effect of creating new downtown waterfronts.
For example, in Kalamazoo, MI, Arcadia Creek had been covered and used as a sewer. Then, in 1995, the city uncovered five downtown blocks of Arcadia Creek.
The project was a key part of redeveloping downtown, and addressing chronic flooding. Kalamazoo issued bonds to fund the project, and a flurry of investment followed.
More on daylighting downtown waterways appears in the June issue of Downtown Idea Exchange newsletter. Click to learn more about Downtown Idea Exchange and other resources for revitalizing downtowns and commercial corridors.