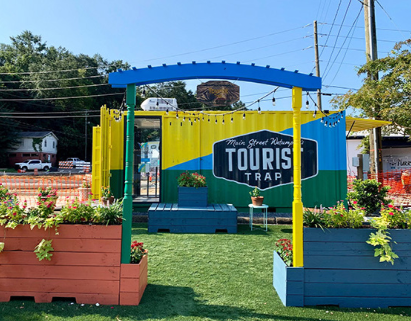 Four downtowns in Alabama are using repurposed shipping containers to spur new business start ups. The idea is to provide free rent to local entrepreneurs so they can test their concepts before committing to costlier permanent space.
"It's big enough to get started, but small enough to get uncomfortable quickly," says Main Street Alabama President Mary Helmer Wirth.
Each box costs about $45,000 after all expenses are considered, Wirth says. So far the Small Box Shops are being installed in very small towns because of the funding source: The U.S. Department of Agriculture has paid for 70 or 80 percent of each of the four boxes, a ratio that depends on each town's demographics.
The boxes offer an eye-catching new attraction downtown, and their arrival usually garners local media coverage.
In Heflin, one of the smallest communities to introduce the containers, Southern Charms Home Décor & Designs debuted in a Small Box Shop on Black Friday of 2020.
By the end of the Christmas season, Southern Charms had already outgrown the incubator space. The owners then found a permanent location in a historic building downtown.
The full story on the Small Box Shops plus articles on collecting resident feedback and steps for pursuing ARPA cash appear in the April issue of Downtown Idea Exchange. Click to learn more about Downtown Idea Exchange and other resources for revitalizing downtowns and commercial corridors.