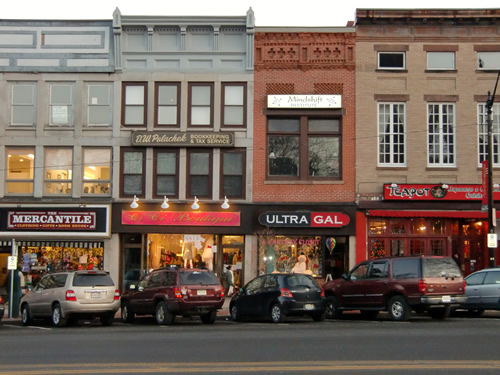 Northampton, MA, is working through an overhaul of zoning rules that would bring a form-based code to downtown and an adjacent neighborhood.
It's a step that's gaining popularity nationwide as proponents of "missing middle" housing call for more flexibility in the types of property uses cities allow in and near downtowns — and as retail uses have faded as a staple of downtowns.
The proposal calls for consolidating four commercial zoning districts into three: the central business core, the central business gateway, and side streets.
Under the new form-based code, multifamily housing would be allowed on more side streets, and first-floor housing could be added to existing industrial-zoned structures, such as a former mill building.
"This is allowing us to divide up our downtown, and say, 'On our main downtown streets, we still don't want ground-floor residential. But on our gateway streets and side streets, we want ground-floor residential to add vibrancy,'" says Carolyn Misch, Northampton's assistant director for planning and sustainability.
Over the decades, the city's zoning rules have grown "stale," Misch says. The goal of Northampton's proposed zoning changes is to offer opportunities for new housing, dining, and other retail or business uses.
The full story on Northampton's move to form-based code plus articles on rebranding a troubled downtown and creating a three-pronged response to the pandemic appear in the March issue of Downtown Idea Exchange. Click to learn more about Downtown Idea Exchange and other resources for revitalizing downtowns and commercial corridors.