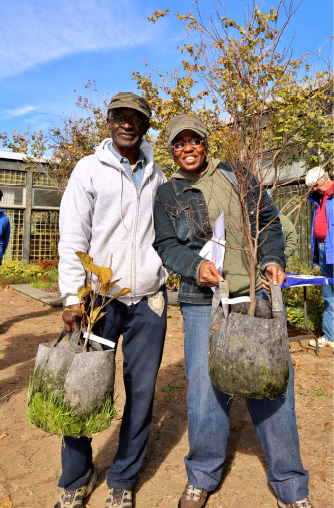 Ben Shardlow, director of urban design at the Mpls Downtown Improvement District, acknowledges that he's a bit jealous of other downtowns, at least when it comes to their lush tree canopies.
"You go to some cities, and it seems like the trees just leap out of the ground," Shardlow says.
That's not the case in Minneapolis. The city's notoriously bleak winters are tough on street trees. But in recent years, Minneapolis has placed a new emphasis on caring for the trees in its city center. The result is a healthier population of trees and a higher survival rate for new plantings.
The city now makes sure to water every street tree every week until it reaches maturity. That fundamental bit of maintenance had long been overlooked in a city that's otherwise friendly to trees.
Philadelphia is also working to enhance its urban tree canopy. The city lost 6 percent of its street trees in a decade, according to a 2018 report commissioned by the city.
In September, the city announced that its TreePhilly program would give away 1,000 trees to Philadelphia residents. Trees may be planted in private yards or on city streets. Street trees must be planted at the property owners expense by a certified arborist with a permit from Philadelphia Parks & Recreation. Volunteers are also available to plant street trees twice a year at no cost to property owners.
More on street trees, creating a "locally made" brand, and homeless outreach appears in the November issue of Downtown Idea Exchange. Click to learn more about Downtown Idea Exchange and other resources for revitalizing downtowns and commercial corridors.