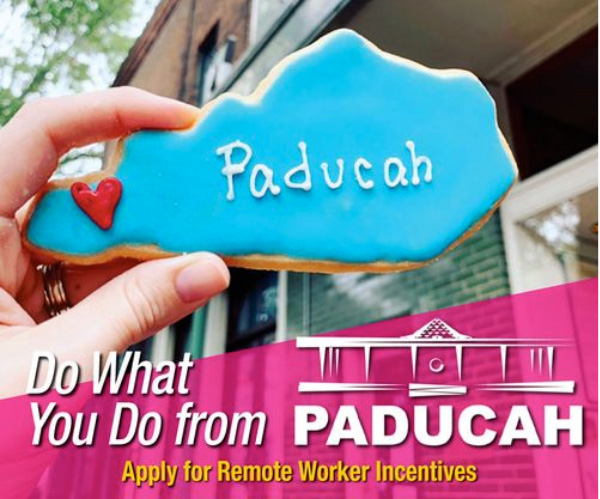 Paducah, KY, is offering incentives to lure remote workers to town. Paducah, a folk arts hub and a UNESCO Creative City, joins other small and mid-sized cities in wooing white-collar workers by offering cash stipends and other incentives.
Paducah's program includes cash reimbursements of up to $2,500 for relocation costs, up to $70 a month for Internet fees, and a one year waiver of the city's 2 percent payroll tax.
Paducah officials examined incentives offered by a number of cities, including Baltimore, Hamilton, OH, Tulsa, OK, Topeka, KS, and Chattanooga, TN, before crafting their own package.
For a worker making $100,000 a year, the incentives would be worth about $6,500. The city opened applications in August and says it will limit awards to 25 people.
"The intent of this is to attract remote workers who wouldn't necessarily consider Paducah," says Assistant City Manager Michelle Smolen. The city is saying, "Come look at our high quality of life, and here are some additional incentives."
More on attracting remote workers, the power of authenticity, and the Revitalizing Downtown Act appear in the October issue of Downtown Idea Exchange. Click to learn more about Downtown Idea Exchange and other resources for revitalizing downtowns and commercial corridors.