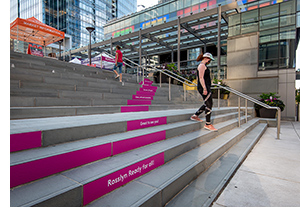 In Rosslyn, VA, the response to the COVID-19 pandemic has taken the form of purple stickers, signs, and banners placed throughout the 17-block Business Improvement District.
The eye-catching additions include slogans such as "Rosslyn Ready" and "Clean Safe Connected." Dispensing stations for sanitizing wipes carry the phrase, "Clean it like you mean it."
The steps of a public stairway in a main plaza feature purple messages such as "Be smart, 6 ft apart" and "Great to see you!"
The BID also placed all outdoor furniture at least 6 feet apart. In some cases, the BID repurposed little-used outdoor space by adding additional seating.
Meanwhile, Rosslyn BID ambassadors don face masks and purple shirts and hats as they clean frequently-touched areas and offer directions.
Through the messages — which are emblazoned on sidewalks and trash cans, in the windows of office buildings, and on public benches — the organization reminds visitors and residents to stay vigilant. Rosslyn BID President Mary-Claire Burick wants workers to feel safe going back to the office and eating at local restaurants again. Yet visitors also need to remember that the public-health threat remains.
"Our priority was first and foremost making people feel comfortable," Burick says. "We wanted everyone to know that not only were we ready for them but that we welcomed them back."
More on downtowns reopening appears in the September issue of Downtown Idea Exchange. Click to learn more about Downtown Idea Exchange and other resources for revitalizing downtowns and commercial corridors.