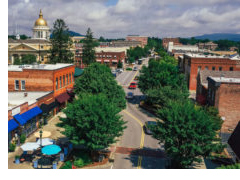 July 23, 2020 —
Hendersonville, NC, is reopening and welcoming customers back downtown. Prior to the pandemic, the city was a bustling place with a narrow Main Street, planters blooming with flowers, and strolling pedestrians.
But it wasn't always that way. Back in the 1970s, Hendersonville's historic Main Street was so empty and so car-friendly that teenagers drag-raced down the strip.
These days, racing down Main Street is practically impossible — and that's the point. Cars creep through downtown near the 20 mph speed limit.
To achieve the transformation from speed-way to leisurely thoroughfare, Hendersonville redesigned its strip to incorporate a variety of traffic-calming features. They include a serpentine design, brick planters and crosswalks, and bulbouts that shorten pedestrian crossings.
To test the proposed design, city leaders laid out cones and temporary visual cues to illustrate how the new layout would work. Downtown merchants liked the idea that slowing traffic might encourage passing motorists to stop and shop.
Since the project was completed in 2013, Hendersonville's district has seen an economic rejuvenation and improved safety. Downtown Economic Development Director Lew Holloway reports gains in property purchases and rehabilitation, new business investment, job growth, and increased property values.
More on Hendersonville's streetscape, reopening plans, and rent relief funds, appears in the July issue of Downtown Idea Exchange. Click to learn more about Downtown Idea Exchange and other resources for revitalizing downtowns and commercial corridors.